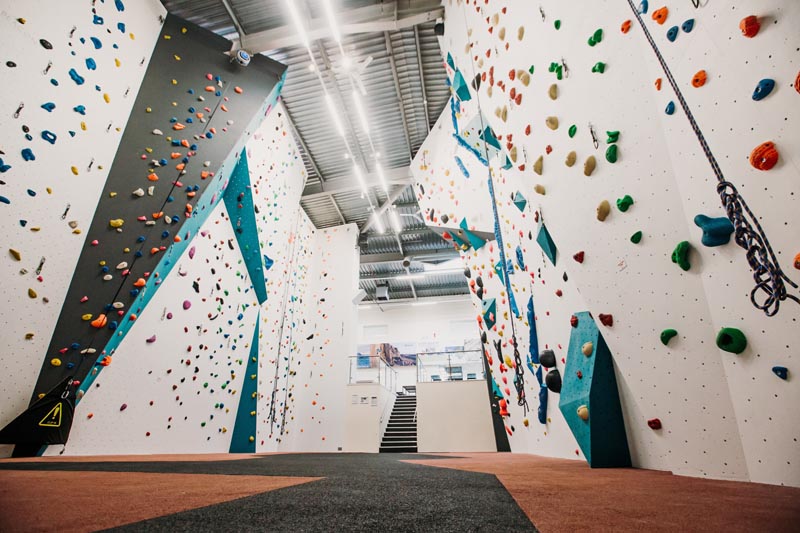 Information for

experienced

climbers.
You must be an experienced climber age 18 or over to climb at Big Rock unsupervised. Under 18s must be supervised by a competent registered adult. You can read our full registration policies HERE.
The original Big Rock experience has a reputation for quality climbing and community spirit. Our climbing is designed around progression and provides a pathway from first experience to elite performance.
We welcome climbers of all abilities, no matter whether you are just starting out or pushing the big numbers. You'll find a full range of roped climbing and bouldering from relatively easy challenges for those new to the sport to fiendishly difficult climbs capable of testing the best climbers around.
Whether you are a regular visitor or just passing through, we hope that you enjoy using Big Rock Hub. Have fun, stay safe and please feel free to ask us any questions you like – our staff will always be happy to help you out.
An overview of the climbing facilities you will find at Big Rock Hub, Kingston.
Roped climbing.
Multi-faceted lead climbing walls up to 11m high.

Overhanging and vertical walls for more technical roped climbing.

3 route lines with Trublue auto belay units.

Textured 'Granite' wall with crack systems.

70+ routes with grades from F3+ to F7+.
Bouldering.
Huge 650 sqm bouldering arena including large freestanding boulder.

All styles covered from tenuous slabs to overhanging roofs.

Colour coded circuits with 6 different grade bands and over 100 problems.

Regular guest setting by some of the UK's finest setting talent.
Training.
Training board. 5.6m wide, 45 degree.

Metolius Project and Simulator finger boards.

Campus boards. 10 rungs with Metolius small/medium options.

Gymnastic rings and dip bars.

Beast Maker 1000 and 2000 finger boards.
Standard entry prices &

membership deals.
The standard entry charges listed are for registered adult climbers or under 18s/novices being signed in by a registered adult climber. Not registered? Please read our REGISTRATION information. Registration is free and is mandatory if you wish to use Big Rock. If you have little or no climbing experience, please refer to our GETTING STARTED section.
If you want to climb regularly, our 10 entry pass deal allows reduced rate entry on any day and at any time for a total of 10 visits with an advance payment. The passes are valid for entry at Big Rock Hub and Big Rock Bond, and have no time expiration so can be used at any time in the future.
| Standard Entry | DAY PASS | 10 Entry Pass | 5 Entry Pass |
| --- | --- | --- | --- |
| Adult | £9.50 | £85.50 | |
| Student/Concession* | £8.50 | £76.50 |  £38.25 |
| Under 18 | £7.20 | £64.80 | |
| Under 6 | £3.00 | | |
| Supervising Adult | Free | | |
| Group using external instructor | standard entry rates | | |
*Over 65, unemployed or full time students. All must have current proof of status.
We also offer £5 entry for students arriving before 4pm on Wednesdays.
Want unlimited climbing? Big Rock membership allows unlimited use of Big Rock Bond and Big Rock Hub and could literally save you hundreds of pounds!
| Big Rock Membership | Direct Debit* | 1 month unlimited | 3 month unlimited | Annual unlimited |
| --- | --- | --- | --- | --- |
| Adult | £46 | £57 | £142 | £475 |
| Student/Concession** | £40 | £51 | £125 | £420 |
| Under 18 | £34 | £42 | £105 | £350 |
| Family Membership*** | £102 | | | |
| Extra U18 family member | £25 | | | |
*All direct debits are subject to a £20 initial set up fee.
**Over 65, unemployed or full time students. All must have current proof of status.
***1 adult + 2 children or 2 adults + 1 child.
Weekly

social

climbing sessions.
Open to all registered rope climbers no matter how experienced you are or what level you climb at, these sessions at Big Rock Hub, Kingston offer you the chance to meet up with other climbers and form a group of regular climbing friends. If you've just completed your Learn to Climb Course or are looking to attend regular climbing sessions to increase your motivation and confidence, the sessions are a perfect way to get more involved with climbing at Big Rock.
Advance booking is not required and there is no additional charge to attend – you just need to pay your standard entry fee. The sessions don't include any formal instruction, but you'll always find a Big Rock instructor on hand if you're looking for some handy tips.
Social Climbing Sessions
Adult Social Climbing
Minimum age 18
Every Weekday: 6:30pm to 8:30pm
Big Rock Hub, Kingston
Ladies' Night
Minimum age 18
Every Wednesday: 6:30pm to 8:30pm
Big Rock Hub, Kingston
Daytime Social Climbing
All ages
Every Wednesday: 11:30am to 1:30pm
Big Rock Hub, Kingston
Family Social Climbing
All ages
Every Wednesday: 4:30pm to 6:30pm
Every Wednesday: 11:30am to 1:30pm (school holidays only)
Big Rock Hub, Kingston
*Under 18s must be supervised by a registered adult climber.
Introduce a friend

for free.
Our Bring a Friend scheme operates at Big Rock Bond, Bletchley and Big Rock Hub, Kingston and is a great way for you to spread the word amongst your friends about how great climbing is. What's not to like?
One of the best things about climbing is working out in the same space as your friends. If you climb at Big Rock regularly, you've probably already thought about getting some of your friends involved. And now we've just made it really easy for you to do this.
Any registered member of Big Rock can introduce up to 2 friends to climbing at Big Rock for free. Just turn up with your friend(s) and after completing our novice registration process you can go climbing together.
You must be a registered member of Big Rock age 18+.

You can introduce up to 2 friends age 18+ for free per visit.

Your friend(s) must not already be registered with Big Rock and will receive free entry (including equipment hire) during their first visit only.

You must supervise your friend(s) at all times, according to our

REGISTRATION

policies.
Please note that this offer expires on 30th November 2018.