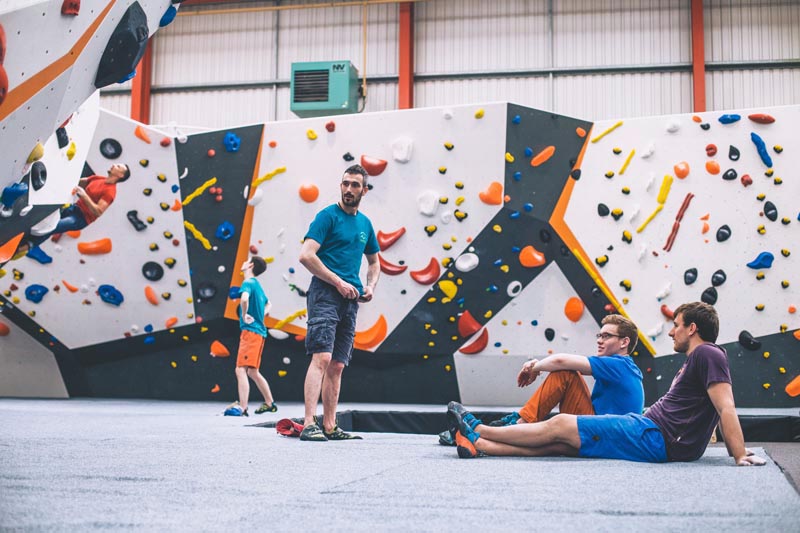 Bored with the gym?

Try this instead!
You've probably already heard about bouldering. It's reckoned to be one of the fastest growing sports around and is a type of low-level climbing limited in height to 4-5m and practiced above foam matting. It is a great entry point to climbing, whether you are starting out with a few friends or on your own, because you don't need to use a rope or undergo any specialist safety training to have a go.
Sociable and dynamic, bouldering makes exercising motivating and fun and will give you a full body workout that is far more engaging than typical gym routines. Regular practice will improve your body dynamics, suppleness, power and strength and it's a great stress buster too. You can practise at your own pace and all our bouldering is difficulty graded and colour-coded, making it really easy to select challenges that are appropriate to your level of ability.
One of the best things about bouldering is that you can enjoy exercising in the same space as your friends, your partner or your family and the feeling of satisfaction from reaching the top is the same whether you're new to the sport or a seasoned pro. Keep in shape, distract yourself from the pressures of everyday life and most importantly, have fun whilst you're doing it.
Tempted? Get started with our Bouldering Induction!
1 hour Induction (min. age 18) £15 per person.

1 hour Private Induction (min. age 18) £15 per person, minimum 2 people.

1.5 hour Private Family Induction (min. age 7) £20 per person.
Got a question? Find the answer here.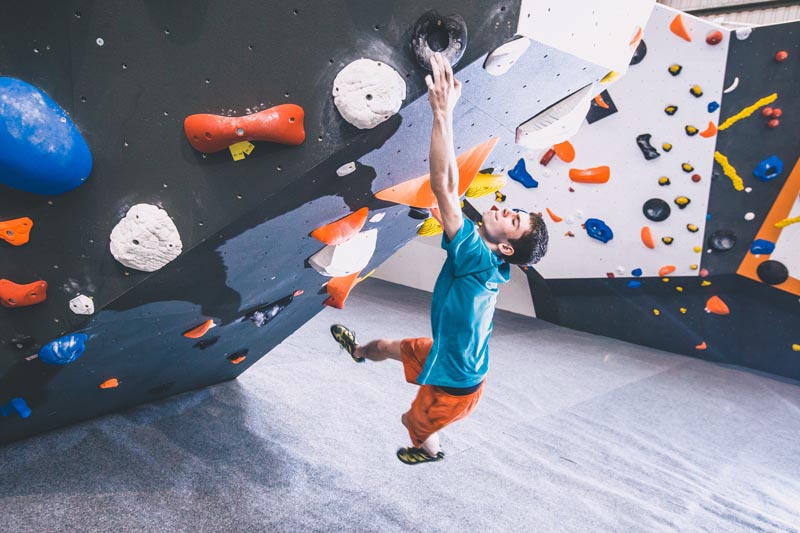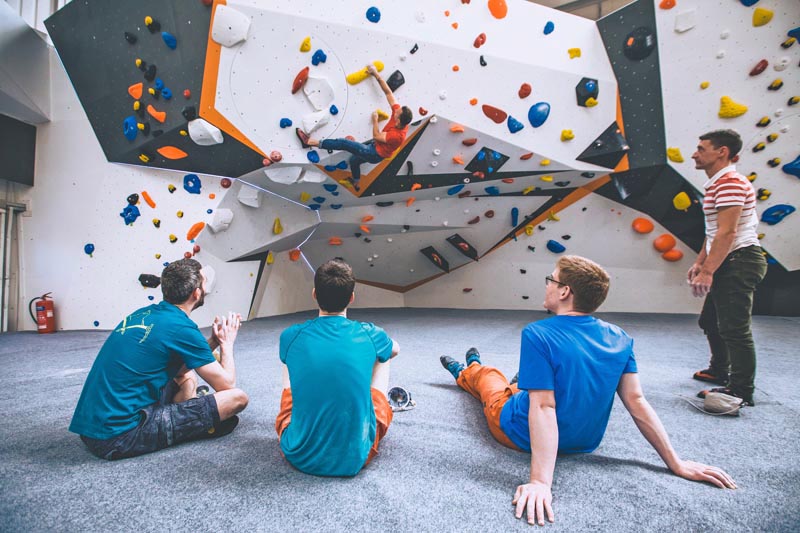 Sounds good…

how do I book?
We run Bouldering Inductions every day, during weekday mornings, afternoons and evenings, and also at weekends. You can book right here using our simple to use online booking system. Our online booking system operates in real-time so you can check current availability and select any available session.
Step 1:
Choose from one of the options below: you can attend our standard Bouldering Induction (suitable for all adults age 18+) or a Family Bouldering Induction (suitable for parents attending with children age 11+).
Step 2:
During your 1 hour induction, we'll get you started with the fundamentals of bouldering and you'll then be able to use Big Rock on your own, including during the rest of the day immediately following your induction.
Step 3:
You're ready to go! You can now pre-book a bouldering session at a time that suits you and go bouldering unsupervised.You can now visit Big Rock at any time and go bouldering unsupervised upon payment of our standard day pass fee – see our current rates HERE. Unlike regular gyms, Big Rock is operated on a pay as you go basis so you don't need to sign up to any contracts to use the centre.
Bouldering Induction
1 hour induction
Minimum age 18
ADVANCE BOOKING REQUIRED
Private Bouldering Induction
1 hour induction
Minimum age 18
Min 2, max 6 people
ADVANCE BOOKING REQUIRED
Private Family Bouldering Induction
1 hour 30 minute induction
Minimum age 7
ADVANCE BOOKING REQUIRED
Testimonials.
Still unsure? Read what our customers are writing about us!
I only popped in to have a look! I'd been toying with the idea for a while but I was a little too shy to commit. I needn't have worried. The staff were really approachable and I felt welcome. There was no pushy sales pitch, no hidden agenda. I ended up booking a Bouldering Induction there and then. Dave was brilliant. The instruction was calm, measured and above all engaging. I managed to accomplish climbs that I never would have thought possible for a beginner. Above all, there was no pressure. He took his time to explain things without impatience or the pressure of the clock. The session was over yet he hung around to boulder with me a little more. Brilliant just brilliant. His parting comment: "If you're stuck, just ask. We'll always help."
Took the Bouldering Induction with my girlfriend and had a great experience. We were taught some basic techniques and we were encouraged to go at our own pace. At the end of the session we were able to stay and climb until we'd had enough. We will definitely be returning on a regular basis.
My husband and I attended the Bouldering Induction session. We are both in our 50s and were pleased that we were able to complete the basic climbs. We will be going back. The instructor was excellent and all the staff were very friendly and made us feel welcome.
Absolutely fantastic experience. Myself and my companion were very nervous but all of that was completely dissipated by the professionalism and welcoming atmosphere. All the other climbers were so incredibly friendly and there's a fantastic mix of skill levels which is both impressive and motivating. We will absolutely be coming again!