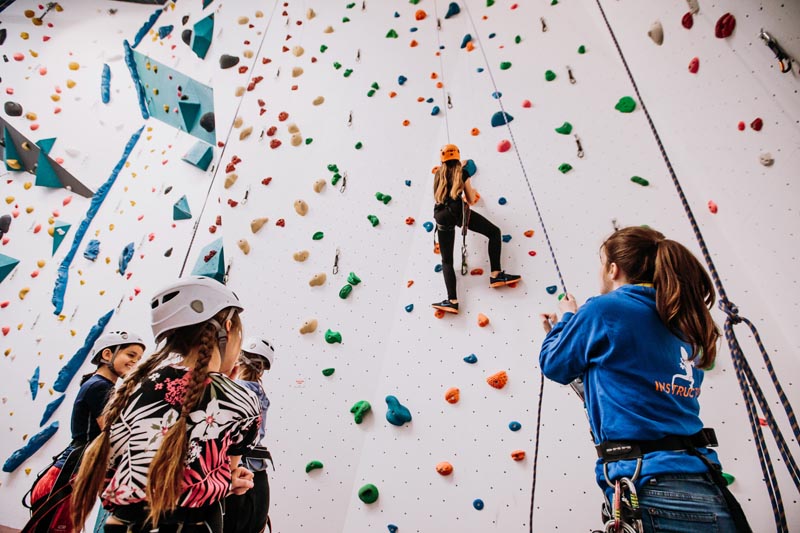 Fun fitness

to inspire & motivate.
Indoor climbing at Big Rock is an exhilarating activity offering exciting physical and mental challenges at a level specific to the individual. Getting involved is a great way to inspire physical activity for children of all athletic abilities by proving that exercise is actually really fun!
Climbing helps to develop movement, balance, hand eye co-ordination, team work and communication skills in an engaging environment that encourages social interaction. In addition to the physical challenge, climbing also provides a technical challenge that requires concentration, problem solving abilities and mental tenacity to succeed, as participants must discover how to successfully move between the coloured holds. It is a great activity to stimulate, motivate and enhance confidence outside of the typical learning environment.
Big Rock is already used by groups and schools throughout the region as a valuable and fun educational resource, providing young people with new and exciting experiences that allow them to explore their true potential. We would love your group or school to realise the benefits of using the climbing centre too and we are keen to answer your questions, discuss your ideas and tell you more about what Big Rock can offer. For further information, please call us on 01908 583 128, email info@bigrockclimbing.com or visit anytime to have a look around.
We offer one-off introductory sessions to provide an exciting introduction to indoor climbing or if you would like to attend regularly, we offer groups the opportunity to develop an active interest in climbing through NICAS, the National Indoor Climbing Award Scheme.
Supported by a logbook and certificates issued upon the completion of each level, NICAS advances the participant from complete novice through to experienced climber with the development of climbing skills and techniques. Participants in the scheme can continue to progress through the NICAS levels outside of school organised sessions by joining one of our WEEKLY CLUBS, run weekly during school term time.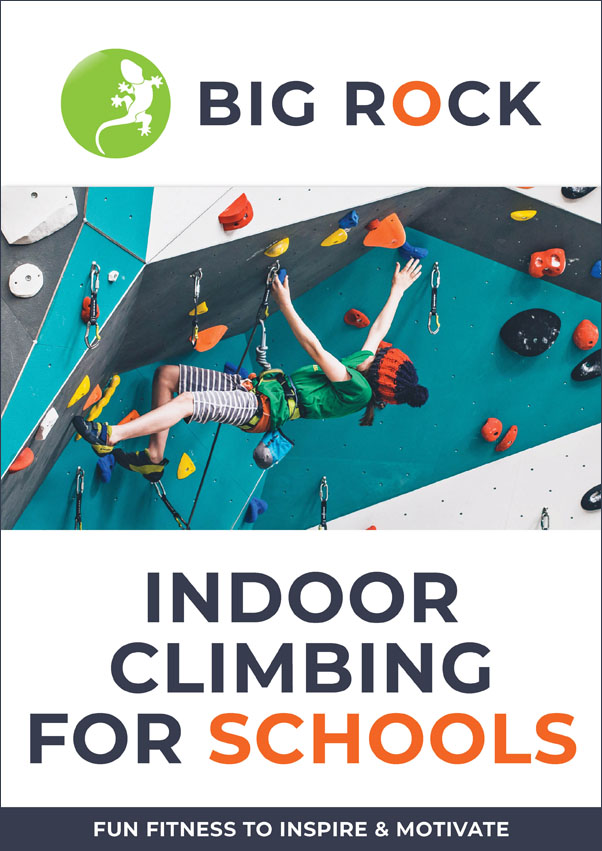 Prices

for Groups & Schools.
If your group has never tried indoor climbing before, our introductory sessions are a great way to begin and are suitable for nearly everybody from age 5+. These sessions are fully supervised and focus on introducing new climbers to the sport in a friendly environment, at a level appropriate to their age and ability. We also offer instructed sessions tailored to suit the abilities of more experienced groups or those attending regularly as part of the NICAS scheme. These sessions are flexible and can be scheduled to suit your requirements.
Schools & Groups.
Available to schools & registered charities only.
Groups.

Prices are applicable at all times.
Duration
1 hour
1 hour 30 mins
2 hours
2 hours 30 mins
3 hours
3 hours 30 mins
Cost / instructor
£66
£84
£99
£114
£132
£148.50
Duration
4 hours
4 hours 30 mins
5 hours
5 hours 30 mins
6 hours
Cost / instructor
£165
£183
£198
£216
£234
1 hour session: maximum ratio of 1 instructor to 6 climbers.
All other session durations: maximum ratio of 1 instructor to 8 climbers.
Schools.

Prices for school term time only, sessions to end before 5:30pm. All other times charged at Groups rate as above.
Duration
1 hour
1 hour 30 mins
2 hours
2 hours 30 mins
3 hours
3 hours 30 mins
Cost / person
£7.20
£9.60
£11.70
£13.80
£15.90
£18.00
Duration
4 hours
4 hours 30 mins
5 hours
5 hours 30 mins
6 hours
Cost / person
£20.10
£22.20
£24.30
£26.40
£28.50
Big Rock will determine how many instructors are required for each session.
Minimum number of 5 participants for any session.
Schools or Groups with their own instructor.
We are happy for you to provide your own instruction for your school or group provided that all instructors are appropriately qualified and insured.
Group using external instructor: STANDARD ENTRY rates apply.
Equipment can be hired where required.
Safety

& additional information.
At Big Rock safety is our priority and we are committed to providing safe facilities, equipment and instruction. All our instructors are fully qualified in accordance with national guidelines, holding a minimum of CWA (Climbing Wall Award) or SPA (Single Pitch Award) qualifications and holding relevant first aid qualifications.
Big Rock is also a full member of ABC (the Association of British Climbing Walls), the representative body for UK climbing centre managers and owners. ABC members are committed to operating and managing their climbing walls to current ABC guidelines which are endorsed by the BMC (British Mountaineering Council) and the Entertainment National Interest Group of the Health and Safety Executive.