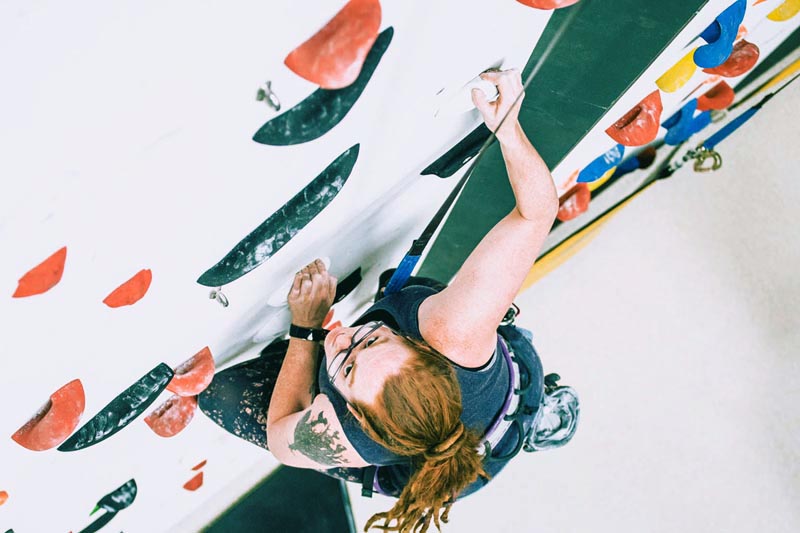 Get the buzz

from reaching the top!
Looking for a low impact, engaging workout that you can try on your own, with you friends or even with your kids? You've just found it. For many people roped climbing is the most exciting aspect of indoor climbing since it provides the enjoyment of climbing movement with the exhilaration of climbing high. It's a great way to keep in shape without actually feeling like you're doing exercise, giving you a full body workout at a level specific to your ability.
Unlike low-level bouldering where the focus is more on athletic movement, roped climbing provides a more subtle workout with the emphasis on endurance rather than strength. It may not be as physically demanding as bouldering, but climbing high up the walls does introduce a psychological aspect which must be mastered to succeed! It's also a great stress buster since it requires you to focus your mind entirely on your body movements.
Roped climbing does require rope management climbing skills to keep you safe and it is essential that you understand and are fully competent in the correct techniques required to safely manage the risks involved. All newcomers to roped climbing must undergo instruction, but once you complete this you'll be able to use the roped climbing areas and the bouldering areas at Big Rock.
Tempted? Get started with one of our Learn to Climb Courses!
Learn to Climb Course (min. age 18) £80 per person.

Family Learn to Climb Course (min. age 7) from £140 per family.
Got a question? Find the answer here.
1 month free

unlimited

climbing.
Yes. You read that correctly. To help newcomers to the sport really get involved, we offer 1 month free unlimited climbing for everyone who successful completes our Learn to Climb or Family Learn to Climb Courses. And there aren't even any annoying terms or conditions. You can literally climb at Big Rock whenever you want, for as long as you want within the 1 month period, although the offer does exclude equipment hire and all instructed sessions.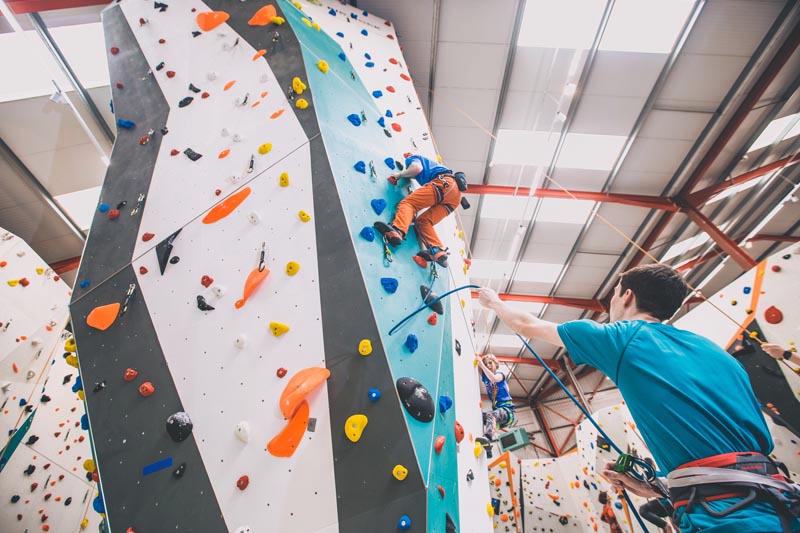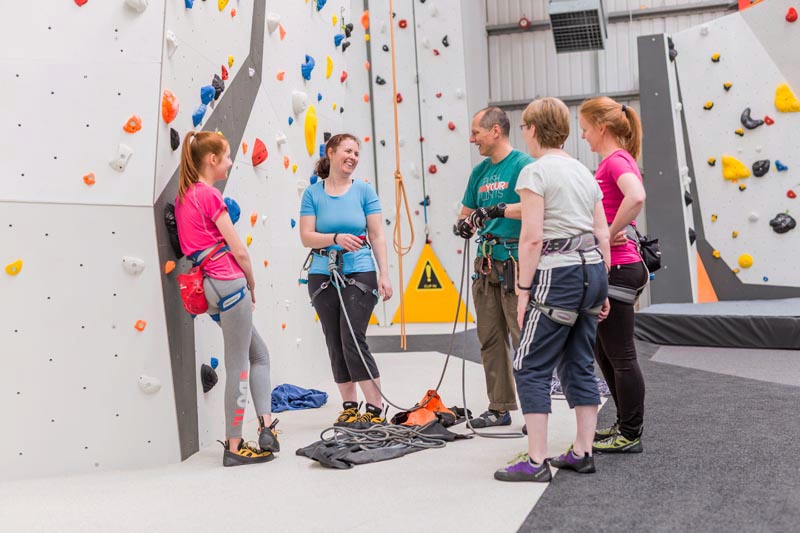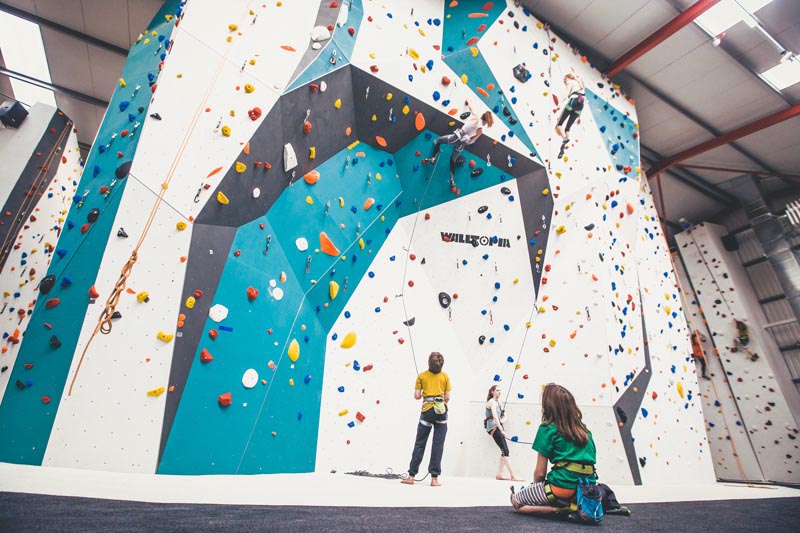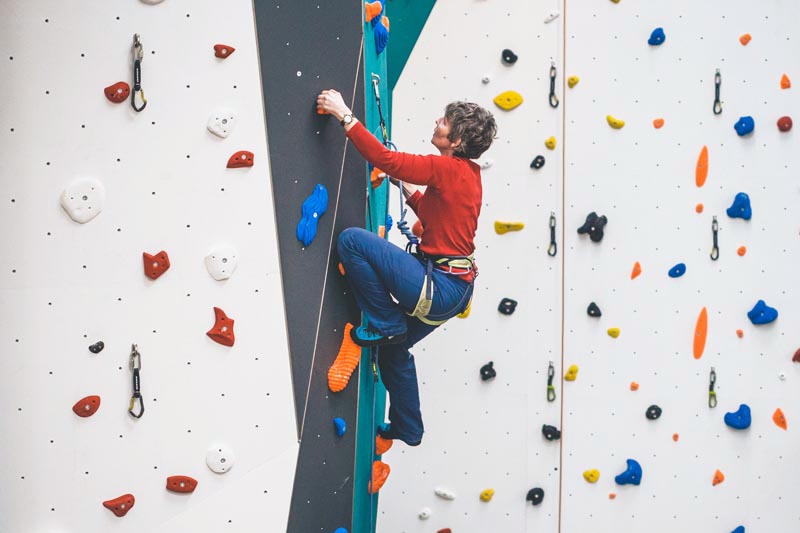 Sounds good…

how do I book?
We run Learn to Climb Courses every week, during weekday evenings and also at weekends. You can book right here using our simple to use online booking system. Our online booking system operates in real time so you can check current availability and select any available session.
Step 1:
Check times and availability using our online calendar and book your Learn to Climb Course.
LEARN TO CLIMB COURSE
Roped climbing & bouldering instruction
Minimum age 18
ADVANCE BOOKING REQUIRED
Or get started with our hugely popular Family Learn to Climb Course. One of the great things about climbing is that it doesn't matter what your ability is or how old you are. Parents and children can enjoy exercising together and the feeling of satisfaction from reaching the top is the same for everyone.
FAMILY LEARN TO CLIMB COURSE
Roped climbing & bouldering instruction
Minimum age 7
ADVANCE BOOKING REQUIRED
*Price for 1 adult & 1 child.
Additional child +£40. Additional adult +£80.
Maximum 2 children per adult.
Step 2:
The course covers all the climbing basics and will provide you with the skills, experience and confidence to use the roped climbing walls and the bouldering areas at Big Rock safely and unsupervised.
Step 3:
After completing your course you're ready to go! You can now visit Big Rock at any time and go climbing unsupervised upon payment of our standard day pass fee – see our current rates HERE. Unlike regular gyms, Big Rock is operated on a pay as you go basis so you don't need to sign up to any contracts to use the centre.
If you become a regular user and want to save money, we do offer 10 entry pass deals that allow reduced rate entry at any time for a total of 10 visits with an advance payment, or unlimited membership deals. Please ask at reception for further details.
Testimonials.
Still unsure? Read what our customers are writing about us!
I did a taster last year which I enjoyed so much that I decided to do the Learn to Climb Course as well. The instructor was absolutely fantastic; fun, informative, thorough, and professional. The course was enjoyable and gave me full confidence to start climbing and belaying unsupervised. I have since been climbing here once or twice a week and I adore it. It's fun, challenging, great exercise, and a friendly atmosphere.  Big Rock just has a really nice vibe with everyone helping each other out, offering guidance, and congratulating you when you master a route.
As someone who is afraid of heights I took this course to conquer it and learn the safety techniques so that I could take my child climbing. The instructors are great and thoroughly understand what would push you to achieve more and to get you fully versed in safety and good habits to climb well. I would recommend this course to anyone who wants to try climbing.
I have just finished the Learn to Climb Course. Great value for money with 8 hours of instruction, entry to Big Rock, instruction and all equipment included. The course gives you everything you need to learn to climb with sufficient focus on safety so you finish with the important stuff lodged in your head and you know you are good to try it yourself. The course size was small so no-one gets lost in the crowd. Our instructor was excellent and has been friendly and helpful in my visits since, making me feel at home at Big Rock. There is always someone on hand who is more than happy to help or advise you, including your fellow climbers.
I visited Big Rock to just take the kids and get a feel for the place and ended up doing the Learn to Climb Course with 5 of my friends and no experience at all. We all felt very welcome by the staff and had a brilliant time with an outstanding instructor who made us all feel very at ease. The course is a great way to lean and have fun along the way and for sure is worth its weight in gold. Big thanks to everyone there.