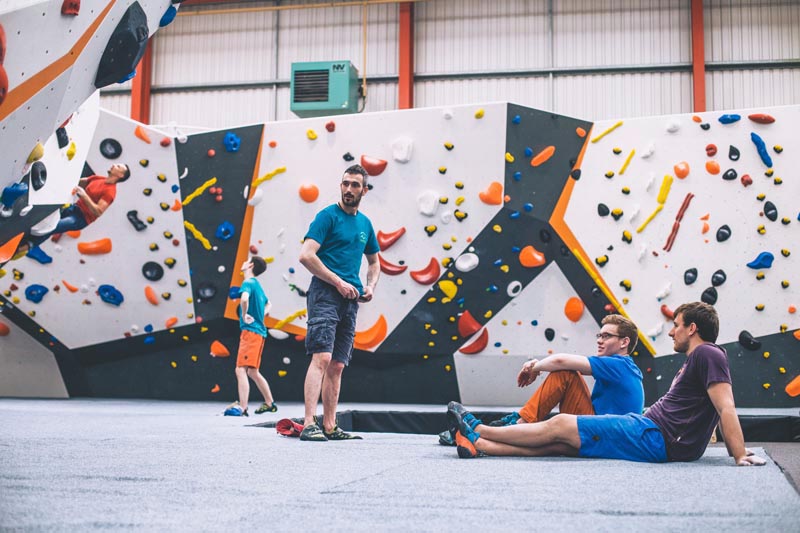 Bored with the gym?

Try this instead!
You've probably already heard about bouldering. It's reckoned to be one of the fastest growing sports around and is a type of low-level climbing limited in height to 4-5m and practiced above foam matting. It is a great entry point to climbing, whether you are starting out with a few friends or on your own, because you don't need to use a rope or undergo any specialist safety training to have a go.
Sociable and dynamic, bouldering makes exercising motivating and fun and will give you a full body workout that is far more engaging than typical gym routines. Regular practice will improve your body dynamics, suppleness, power and strength and it's a great stress buster too. You can practise at your own pace and all our bouldering is difficulty graded and colour-coded, making it really easy to select challenges that are appropriate to your level of ability.
One of the best things about bouldering is that you can enjoy exercising in the same space as your friends, your partner or your family and the feeling of satisfaction from reaching the top is the same whether you're new to the sport or a seasoned pro. Keep in shape, distract yourself from the pressures of everyday life and most importantly, have fun whilst you're doing it.
Tempted? Get started with our Bouldering Induction!
1 hour Induction (min. age 18) £18 per person.

1 hour Private Induction (min. age 18) £20 per person, minimum 2 people.

1.5 hour Private Family Induction (min. age 7) £25 per person.
Got a question? Find the answer here.