Climbing

progression

at Big Rock.
Been climbing for a while and looking to progress beyond your current level? You're on the right page. Improving at climbing isn't just about strength and body conditioning, it's also about learning new skills and techniques so that you can use your body more efficiently. Our progression options will help you get the most out of your climbing and will help you to access climbs and areas at Big Rock that have previously been unattainable too. Hoorah for that.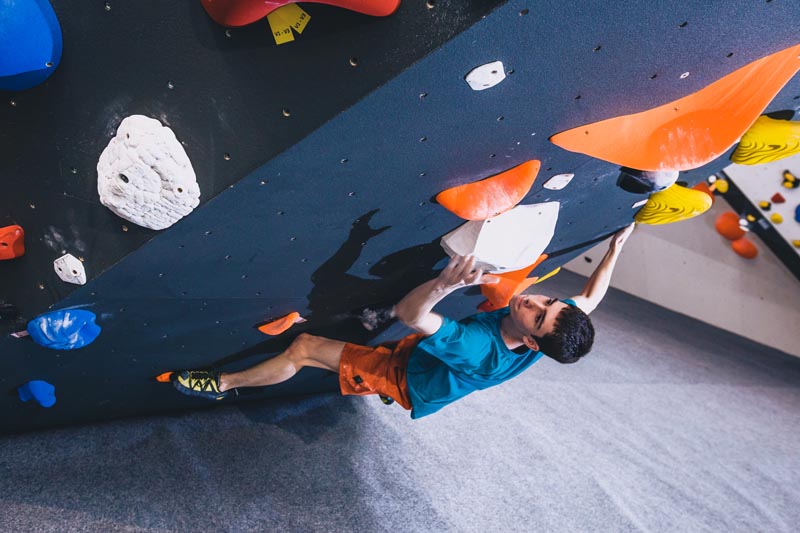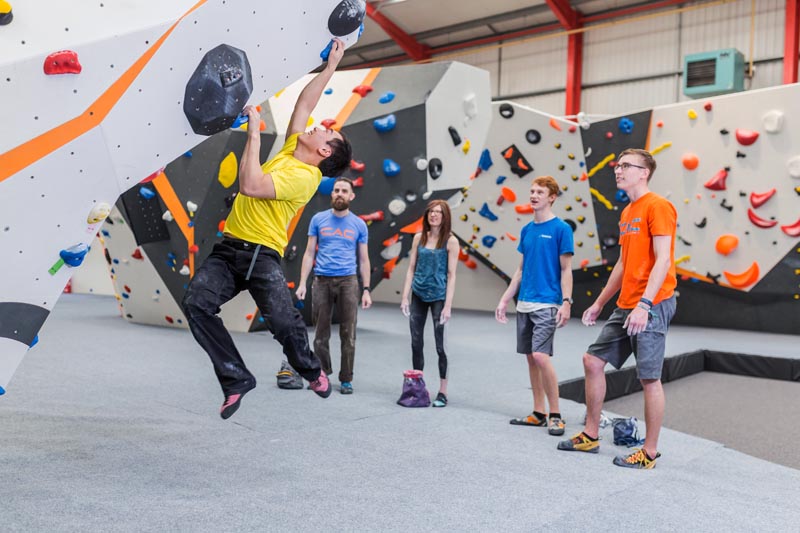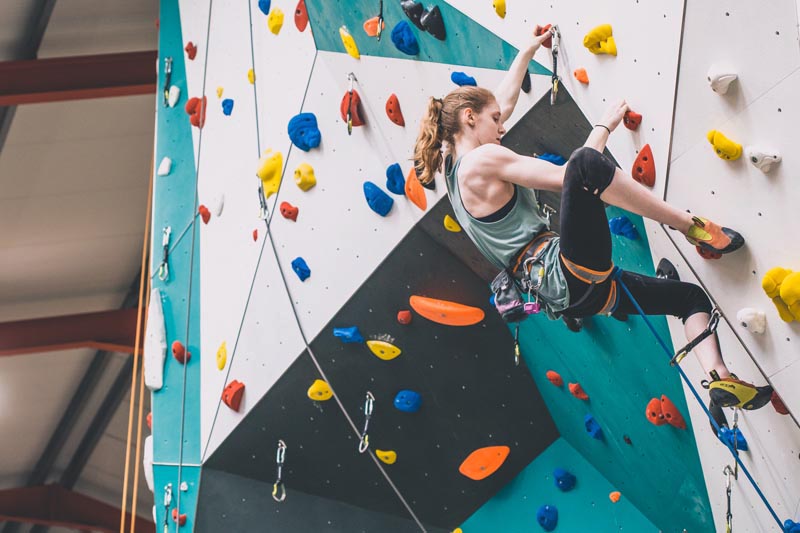 I want to improve…

what are the options?
Lead Climbing.
Comprehensive introduction to lead climbing.

6 hours of instruction with 4 x 1.5 hour sessions.

Price includes climbing centre entry fees.
You should be a confident top rope climber and belayer before enrolling on this course – feel free to speak to a member of staff if you are uncertain.
If you've mastered belaying and developed a head for heights on the roped climbing walls, then the next step to progress your climbing is by learning how to lead climb.
This type of climbing is considered a more exciting and satisfying way to climb and will provide you with the opportunity to use the more overhanging walls at Big Rock that are not accessible on a top rope.
Our Lead Climbing Intro course will get you started, introducing you to lead climbing gently and building confidence in your approach as the course progresses. The comprehensive syllabus includes everything you need to know and covers both the skills and psychological preparations required for lead climbing.
LEAD CLIMBING INTRO
4 x 1.5 hours of instruction
Minimum age 18
ADVANCE BOOKING REQUIRED
PRIVATE LEAD CLIMBING INTRO
4 x 1.5 hours of instruction
Minimum age 18
PRIVATE BOOKING
*4 sessions may be required to complete the course. Minimum of 2 people.
Private Coaching.
If you would like to climb before or after your session please note that you may have to book and pay for general climbing seperately. More information on whether you will need to book is available on the COVID-19 info page.

Suitable for Big Rock registered members aged 18+, our private coaching sessions provide personalised tuition for all beginner+ to advanced climbers and can be booked as one-off sessions or as part of a regular programme.
You'll discuss how you want to improve and/or what you want to achieve with your coach who will then work with you to identify and improve any areas of weakness. You'll be given feedback based on analysis of your climbing, alongside tips, advice and exercises that will give you a clearer understanding of what you need to work on and how you can achieve your goals.
Tuition is based on individual requirements, whether general improvement, physical, psychological, or technique based and can be booked at any date and time to suit your schedule.
PRIVATE COACHING
1 hour private lesson
Minimum age 18
ADVANCE BOOKING REQUIRED
Testimonials.
Still unsure? Read what our customers are writing about us!
In a conversation with a friend I said I enjoy climbing but it's surprisingly hard work. He said 'Yes, because you're doing it wrong'. And he was right. A coaching session is a brilliant starting point to get some idea of where to start and some basics to practice and build on. Honestly, I'm amazing what a difference it makes. The Instructor was friendly, fun and informative. It was obvious he knew what he was talking about by the way he effortlessly glided up the walls when demonstrating. Very useful.
After a long time of top-rope climbing, my friends and I decided to do the Lead Climbing Intro to improve our climbing skills. We were taught the proper rules and techniques of lead climbing in 6 hours, spread over 2 hrs per week. We learnt a lot and can't wait to start lead climbing on our own! Thank you Big Rock!
I go to Big Rock most weeks. There is something for everyone no matter how experienced or if it's just for a fun trip out. A few weeks ago, I had a coaching session which was great. Somehow, when my instructor explained how to overcome a problem, it just all fell into place and I was left wondering why I did not think of that. I'm hoping to arrange more coaching sessions in the future, but no matter what, I'll be going to the wall as often as I can.
I have just finished the Lead Climbing Intro. We all enjoyed it and learnt a lot more about the skills and techniques that we need to rely upon to stay safe. The instructor took us through the course, with clear instructions enabling us to understand, and then practise the skills that we needed to move on the next level. I would certainly recommend this course at Big Rock!