Make every visit count! To help you get the most out of Big Rock we offer free Skills Workshops to anyone completing a Bouldering Induction. Simply book onto a 1 hour Bouldering Induction at Big Rock Bond or Big Rock Hub and after completing your Induction you will receive a stamp card that you can use to keep track of your visits to Big Rock.
Each time you visit either location, we'll stamp your card and after visiting 5 times, we will offer you a free Level 1 Skills Workshop so that we can keep in touch and see how you're getting on. Visit another 10 times and you can attend the Level 2 Skills Workshop for free too! There aren't any annoying terms and conditions (yay!), and you can book your free Workshops online at a time and date to suit your schedule.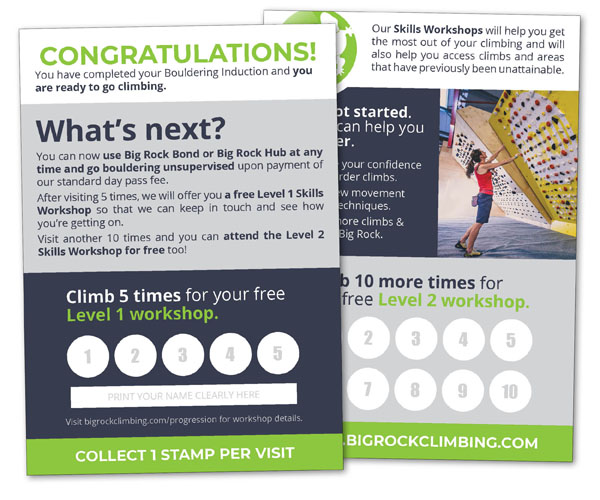 Our Skills Workshops are designed to help you get the most out of using Big Rock and to help you maximise your enjoyment to ensure that every visit leaves you motivated and inspired for your next visit! After getting started, we want to help you get better and our Skills Workshops will:
Increase your confidence to try harder climbs.

Introduce new movement skills and techniques.

Allow you to access more climbs and areas at Big Rock.
We run Bouldering Inductions every day, during weekday mornings, afternoons and evenings, and also at weekends. Book right here using our simple to use online booking system, or read more about getting started with bouldering at Big Rock on our BOULDERING INDUCTION  page.
Bouldering Induction
1 hour induction
Minimum age 18
ADVANCE BOOKING REQUIRED
Still unsure? Read what our customers are writing about us!
Took the Bouldering Induction with my girlfriend and had a great experience. We were taught some basic techniques and we were encouraged to go at our own pace. At the end of the session we were able to stay and climb until we'd had enough. We will definitely be returning on a regular basis.
I only popped in to have a look! I'd been toying with the idea for a while but I was a little too shy to commit. I needn't have worried. The staff were really approachable and I felt welcome. There was no pushy sales pitch, no hidden agenda. I ended up booking a Bouldering Induction there and then. Dave was brilliant. The instruction was calm, measured and above all engaging. I managed to accomplish climbs that I never would have thought possible for a beginner. Above all, there was no pressure. He took his time to explain things without impatience or the pressure of the clock. The session was over yet he hung around to boulder with me a little more. Brilliant just brilliant. His parting comment: "If you're stuck, just ask. We'll always help."
We had our Bouldering Induction with Abbie who made us feel at ease from the start. My wife was scared of heights, but Abbie took the time to reassure and help my wife get over her fear. By the end of the course my wife did not want to stop climbing. We were both very impressed with the training and the facilities. We can't wait to come back and work on our bouldering! Thank you.
Absolutely fantastic experience. Myself and my companion were very nervous but all of that was completely dissipated by the professionalism and welcoming atmosphere. All the other climbers were so incredibly friendly and there's a fantastic mix of skill levels which is both impressive and motivating. We will absolutely be coming again!